Biennial Conference
The UNC Asheville Queer Studies Conference began in 1998 and attracts an international audience of activists, academics, community members, and artists to showcase a range of creative and scholarly pursuits related to the study of genders and sexualities. Our next conference will be in the spring 2025, and our last conference (2023) welcomed over 200 guests for three days of programming. Professor Sophie Mills shares some history about the conference.
2023 Queer Studies Conference at UNC Asheville March 24 – 26
UNC Asheville will host its biennial Queer Studies Conference from March 24-26 on campus, bringing together scholars, artists and activists for workshops and presentations focusing on the theme "Blooming: Metamorphoses and Seasons of Queerness." 
Joining us for 2023 is Alexis Pauline Gumbs, recipient of the 2022 Whiting Award in Nonfiction. Gumbs will deliver a keynote address entitled "Breathe Through Your Wh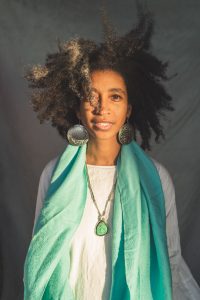 ole Body: What Seals Can Teach Us About Queer Transformation," drawing from her 2022 Whiting Award-winning book, Undrowned: Black Feminist Lessons from Marine Mammals. She has also won several awards for her poetry, including the Lucille Clifton Poetry Prize. She served as a National Endowment of the Arts Creative Writing Fellow in 2022, and currently serves as the creative writing editor for "Feminist Studies."
See the full conference schedule below, which includes conscientious filmmaking workshop with Andie Morgenlander about creating more ethical processes on film sets. Morgenlander–who has acted in, written, produced and directed both short form and feature length narrative films–will screen their award-winning short film Whistle Down Wind, which showcases the lives of queer youth in Appalachia. Their films have received Best Film and Best Narrative Film awards at film festivals throughout the southeast. Morgenlander has also received acting awards for their role in the film Luke & Jo. 
2023 Conference Registration
The 2023 Queer Studies Conference is FREE for all attendees, with a suggested donation of $20-60. Lunch provided Friday and Saturday. 
More information can be found at queercon.wp.unca.edu, or by emailing gsconf@unca.edu.